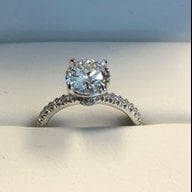 Joined

Jan 19, 2018
Messages

140
Hi PSers,
A year ago you guys contributed to helping me find an engagement ring. I was totally clueless and did not even possess the basic knowledge in shopping for a loose diamond and setting. It was probably the best purchase I've made. I truly believe I've gotten the best bang for the buck. To this day, I am still getting compliments for a job well done, and I am sure I've probably gotten some of my fiance's girlfriends jealous. I thank you all!
I've gotten engaged (back in May) and we are set to wed this October. I am now beginning my search for a wedding band (for her), of course now I wont have to decide on my own, she will be choosing with me. Except, before doing so, I wanted to check in with PS and see if there is anything I must know before purchasing one?
I purchased this platinum setting shown [
here
]; a 1.30 Carat round diamond sits on it. I believe JA has the matching band shown [
here
] this is what we're eyeing on because we think this is what we're suppose to purchase. I personally would love to get her the best looking wedding band available that will not grab the attention of the center diamond. I just dont know how to go about achieving that, so right now price is not an issue. We do not know if it is taboo to go with a non matching set, we're not sure if the band should be the same width; maybe thicker? And since her ring has a pave setting, is it not a good idea to consider a completely different style? Any information help, we could really use even just the bare basic on how to properly chose a wedding band to match the ring I've gotten for her.
Thank you
Last edited: