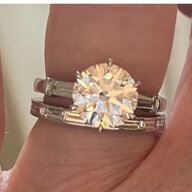 Joined

Mar 31, 2018
Messages

7,349
So you did not know this but it's a running joke between my dh and me and even the rest of my family. They all say I was a depression era baby in another life. Because I LOVE stocking up on everything and I can never have too much of anything including tp, paper towels, food supplies, etc. You name it I need to stock up on it. And really I would not be surprised (if such a thing existed as previous and future lives) if I had been a depression era baby in another life. It's such a strong feeling I need abundance of everything. I am fortunate that my dh can indulge my needs because we have lots of storage in both homes. If g-d forbid there was a nuclear event or something equally catastrophic we would be OK for a long while with all the stuff we have stocked up. But that is not why I do it. Also, I would run out of my meds long before the food and water supplies and die. But I digress. What a cheery thought.
@missy
I wasn't supposed to laugh when you said you would be ready for a nuclear event with all your paper towels, etc but would die from not having meds...but I couldn't help it...Your delivery was perfect..hahaha...I would too be dead too...Boy..We are cheery this morning!

Okay...Enough procrastination...I need to get ready for that shot!
Last edited: