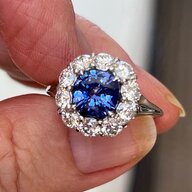 Joined

Aug 18, 2013
Messages

7,624
There are people here on PriceScope who are unbelievably talented at taking photos of their jewelry. I'm not one of them. But I've been asked many times to share photos of my whole collection and to show how it's been curated, and so, given that I have the spare time a pandemic generates, I decided to give it a go.

I'm sure there are excellent ways of arranging my pieces to show the contrasts and similarities between different combinations and how they can be worn. But, while I do love you all, that would be a MAMMOTH undertaking, and I don't love you *that* much. That level of affection was reserved for my darling dog, and he was far too smart ever to ask me for something so silly.

So - with all due apologies - here we go....
Last edited: