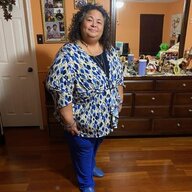 Joined

Apr 7, 2005
Messages

190

Hello Wonderful PS Community,

My younger son is getting married on Saturday, Nov 7th. They were very fortunate to get to keep their wedding date/ plans. My question is, as the Mother of the Groom, do I have any specific duties? I have never really thought about it but now I am feeling a bit anxious.

I am a Widow of 4 years and I am paying for the Rehearsal dinner. Would you be so kind as to share any input, suggestions, or proper etiquette that you have in mind? I was thinking of doing a sweet toast to the happy couple. It is not a fancy wedding at all, the Groomsman are wearing jeans and white shirts with Camo vests.

When I asked my Son what he thought I should wear, he promptly said, something you will be comfortable in and if you want add a little Camo pattern to it. LOL I had a pantsuit made in brown with a brown lacey top and Camo trim on the jacket. Talk about Redneck!! I don't care as long as it makes my babyboy happy.


Thanks in advance!!

Mighty Blessings to you all.