Hello everyone!
I'm looking for something that I'm starting to believe is a bit out of the ordinary as far as Montana sapphires are concerned: A pear cut Montana WITH inclusions.
I'm in the process of teaming up with a goldsmith and making an engagement ring for my girlfriend. She's wanting something in a blue/green color, which I can find, but she's a fan of sapphires with inclusions in them and the "rustic" look that comes with that (that may be poor wording).
I've searched everywhere, and I can't find any anywhere. I understand why this is, as most want gemstones with as few inclusions as possible.
My girlfriend is very partial to Montana sapphires, because of the ethical implications of having it sources humanely and in-country, so I'm confined to Montanas. I don't think I have time to buy a raw and cut it, nor the budget (I'm a teacher). I completely underestimated how involved of a process that is. It seems like really really hard work!
I;ve checked everywhere I possibly can, and while I can find plenty of rough stones, it's been very difficult to find a pear cut with notable inclusions. I'm not sure if this is allowed, but I have a picture of a ring made by a jeweler on Etsy that has already been sold. SHe informed me that she purchased it from India, but as I mentioned before, I'm confined to Montanas: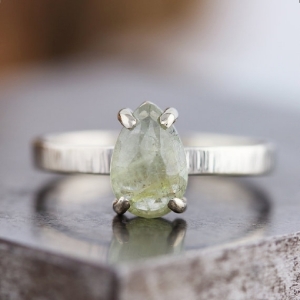 I've checked Blazengems, Mountain Momma, all of the basics, but I need your help, as I'm coming up dry. I've emailed Blaze already about a few of his sapphires, so once he emails me back I'll ask more about what I'm asking all of you about.
Any ideas? I'm coming up empty here

Thank you so much!