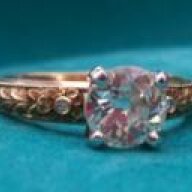 Joined

Mar 31, 2010
Messages

889
Hi ladies,

What are your thoughts on having the MoH make a speech/toast at the reception?

My situation is this:

My matron of honor is my cousin. She is amazing. She lives in Florida (I'm in NJ), and she still managed to organize and throw an amazing bridal shower for me. She is the best. When she got married, I was her maid of honor. At one point before her wedding, I wondered if I should make a speech at her reception. But my mom said it wasn't very traditional for the MoH to make a speech, and since no one had asked me to, I was not expected to do so. I didn't. No one seemed upset, and I didn't get the impression anyone had been expecting me to. But I still feel a little guilty. I kind of wish I had insisted on making a speech to tell her how much she means to me. I think I should have at least asked her what she wanted, but I never did. I just did what my family told me to at the time, when I didn't really know much about weddings. Now, the thing is, at every wedding I have attended since then, the MoH has made a speech. It may not be very traditional, as my mom says, but it seems to be de rigeur these days. I was at a wedding this past weekend, and the MoH made the most beautiful speech. It brought tears to my eyes. FI turned to me and asked "Can you imagine how you'll feel when [my MoH] does this for you?" I told him I didn't think she was going to make a speech, and he was dumbfounded. He said he has never been to a wedding where the MoH did not make a speech, that it is weird if the MoH doesn't say anything, and he thinks we should just ask her to prepare one. I don't think one asks for these kinds of things, and I especially don't think it's appropriate to ask when I never did this for her. I would love for her to say a few words, and I wish I could go back in time and do the same for her. But since I can't, I feel like I should just accept that we won't have a MoH speech (and that's fine, because my MoH is amazing in other ways). What would you do?