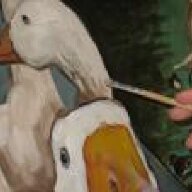 Joined

Apr 2, 2010
Messages

1,815
OK, so I got back info from a few different vendors and made a decision.
First I wanna say that I talked with David from Diamonds by Lauren, Perry form Leon Mege, Jon from
Good Old Gold
, and Itzik from Leibish. All very very nice, quick, and informative. Just to let you know, I'ma touchy feely type, and I loved working with these guys so much that it kills me a little that I couldn't buy from all of them, know what I mean?
David from DBL was gonna give me a beautiful deal on his greenish yellow .97 radiant. In the end, however, I'm just not as turned on by radiants as softer style cuts. Jon was looking at finding me a green stone we could recut into an AVround. Wow.... that would have been outrageous. He found a good candidate and we were looking into that when I got an email from Perry at Leon Mege. I don't know how he did it, but he found me precisely what I had been hoping for (for the design of the ring - a .60 oval) at an unbelievable price. I mean,, coming in at about 2k less than any other possibilities. Just had to go for it. As far as Leibish... man do I love surfing their site. They have such a good collection to drool over. I didn't have as much communication with them as
GOG
and DBL, but they were always pleasant and tried very hard on my behalf to find something that would work. Thing is, Perry pulled a rabbit out his hat!
I just spoke to Leon about my ideas for the ring and the possibilities he suggested are very intriguing. Alas, they don't include AVrounds as side stones. So I had to give those up. Dammit. Really. Wanted. Those. But I get it... when you go through Leon, what you are also "buying" is his eye for proportion and that means letting him find just the right complementary stones. My ring is just not gonna work as an oval sided by rounds.
Anyway, wanted to give you an update and will post some photos when I have a few more hatches battened down.