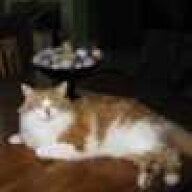 Joined

Jul 11, 2003
Messages

2,328
I have finally decided to stop lurking and take advantage of your cumulative expertise.I bought a 2.14
carat diamond from a "wholesale"diamond merchant in the detroit area. I knew next to nothing and paid $7500 for
the stone-obviously not good quality.After a few months I was extremely disappointed with it as it just didn''t have the fire and sparkle of my original one carat stone.
My very kind husband knew I was unhappy and told me to upgrade.As this dealer gave me dollar-for-dollar credit
on the 2.14,I traded it for a 2.04 G SI2(no cert)by
adding an additional $7500-so I''ve now invested $15000
in this stone.The stats he gave me are:crown16%;table56%;
pav44 (no angle);cr angle 38;depth 64.5;culet small;med
girdle;no fl;polish very good.At first it seemed better than the 2.14,but I then discovered this forum and began to learn something.I decided to trade it for a great cut 1.5carat(something I thought should be very doable for $15000.Two weeks ago he showed me a 1.5 G SI2 that had
dark carbon spots in the middle of the table. I showed it to my local jeweler who said it was at best an I1,so
I returned it.(the cut was very nice-about 1.5 on HCA)
Since then he has been shopping for a cleaner stone for me-but nothing yet. I''m heartsick realizing what I could have purchased for $15000 on the internet and I am losing faith in this dealer.(in his defense he has a satisfactory BBB rating and has been in business for 40
years).Now I''m wondering if the 2.04 has any potential for significant improvement with a recut.Any advice you experts could give me would be greatly appreciated.