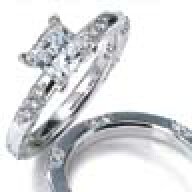 Joined

Jul 20, 2005
Messages

71
Ok I just got the ring today. In this post
https://www.pricescope.com/community/threads/i-am-finally-done-experience-and-recommendations-ags000-princess-in-a-micheal-b.32879/
= I talked about my experiences picking out the stone and setting. Finally I have it in my hands. So everyone that PMd me looking for pics here they are.
But first I must explain the adventure I had today picking it up.
The ring was finished and sent to Pearlmans on Monday. Bill sent it out within 4 hours to Martin Fuller for appraisal. I left work today at 1:30 to go pick it up. I Live in Pasadena MD which is about 45 minutes North of Martin''s office. I get the ring and it is beautifull. I go to leave get in my car and then realize wait Bill Scherlag who I bought the stone from is in the same building. I call him and ask him if he wants to see the final product. He comes outside to meet me. I show him the ring we chat and then I realize I LOCKED MY KEYS IN MY CAR. WITH MY PERSONAL CELL PHONE. All I have is the rings and my work cell. I have no ones phone number on my work cell that even lives close to where I am. I have to call the GF to ask her for a friend from colleges number. Now I am thinking oh crap what am I going to tell her I can''t explain what will happen she will ask me why are you down near DC in the middle of the day. (She lives in Boston). Bill is urging me not to call her he offers to drive me home almost 2 hours round trip and it is now middle of DC Rush hour. I call her because there was no way I would put Bill out like that. I ended up lieing and telling the GF I needed the number for something work related I said I was out on a ship at work ( I am a Ship Superintendent at a Ship Yard). SO eventually around 5:30 I get into my car and then get home around 7. What a day.
Well here are the stats
AGS0 (Cut)
F
VS2
1.34 carat
Micheal B Lace e-ring and matching wedding band.