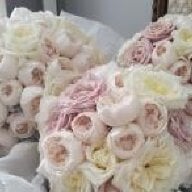 Joined

Jun 7, 2016
Messages

199
I'm not exactly there in the process, but I love to research, so I figured I'd post.
My engagement ring will be a solitaire, 4mm is what I'd like, I'd also like to pair it with an eternity band. I really love the look of flush fitting rings. I don't know if it matters, but the eternity band would have U shaped prongs, and I've often wondered about scratching. In a previous thread someone mentioned a thin spacer, which is definitely a good option, I don't know if the combination of three rings would bother me though, so I'd have to weigh out all options.
I've gone back and forth between white gold and platinum, I've stumbled across 900 plat - 100 irid. as well, depending on what I read, my choice waivers. Everyone has a great argument for their preference, which makes it hard to decide. Has anyone paired similar style rings with the same fears and concerns, what was your choice, and how did you narrow it down?
Thanks so much.