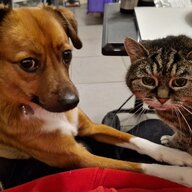 Joined

Jul 7, 2013
Messages

8,604
The thread on preparing for a black tie event got me thinking.
How much does one match, in terms of jewellery, accessories (shoes and handbags) and make-up, etc. etc...?
I dislike matching jewellery as I believe it is too safe and lacks imagination and flair.
All my shoes and handbags are black, easy to mix and match. None of them have the same design.
I stopped matching lipstick and nail vanish ages ago (I do not wear open toe shoes, therefore, no need to consider matching toe nails), as I like to wear dark or red lipsticks, and am very fussy when it comes to nail polish in that I dislike smudges and imperfections (hence I do my own), and dark and red colours show up smudges and imperfections easily.
Nowadays I wear nail vanishes that can hide imperfections more easily, such as glitters.
Thanks for Chanel that brought out this very dark red nail vanish many years ago, and kick-started the trend of mis-match lippy and nail vanish (feel free to disagree when and how this trend started, this is my own interpretation based on my own memories).
How about anyone else?
DK