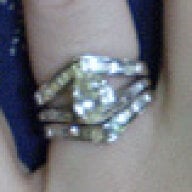 Joined

Feb 17, 2008
Messages

1,166
Hey everyone! So Saturday was the big day! I can''t believe it''s over already, it''s both relieving and a little bit sad.
DH
(!AAAH!) said to me today, "Why aren''t we Indian? Don''t they have a week-long celebration?". I think he''s more bummed than me about it being over!
The day was not without hitches, however (is any wedding?). Nothing major, but I''ll list them:
We had been stashing the wedding fund (we paid for the wedding) in a savings acct in DH''s name. We had a final payment due(about 5K) to the reception venue on April 8th. Well, what an ordeal getting our money out. First, we had to come back ''cause the manager was out to lunch. Then, even the manager gave us a hard time, because DH hadn''t deposited anything with his signature on it in over a year (we had been transferring $ from our joint checking). Even the joint checking didn''t have anything with his signature on it in over a year; we have direct deposit and I write the checks. MAJOR PITA. DH was fuming, as was I, but I have a much longer fuse. Yeah, that account is closed now. Why it should take over an hour to withdraw your own money is beyond me.
Thursday, DH was baking the cookies for the favors (I''m lucky to be married to a man who loves the kitchen!). I hadn''t planned on wearing a veil, but my mom had suggested her mantilla. She dug it out last week (my parents are divorced), and I fell in love. It looked amazing with my dress, but it was PURE white, still, after 40 years. My dress is ivory. My mom told me to dye it with RIT. I was worried that I''d ruin it, as I didn''t know what fabric the veil was (you need to know for dye type/time etc). So my mom assured me that it was no biggie if it got ruined, it''s been sittin in her closet for 40 years, blah, blah, blah. So I bought the dye and dyed it. It. Turned. The. Color. Of. Cardboard. So I freaked out. Even though my mom didn''t care, just the thought of ruining it was too much, especially 2 days before my wedding. DH suggested bleach. I thought that the fabric would fall apart, but I tried it anyway. I bleached that thing 6 times. And it came out perfect! I was relieved beyond words.
DH''s aunt lost her battle with cancer on March 27th. The whole family had been hoping she would make it to the wedding, but she''d been in pretty bad shape for the last month or so. MIL has taken it pretty hard, she''s been depressed, and just not herself since her sister''s passing (totally understandable). MIL was a half hour late to the ceremony (we shoulda started at 3, ended up starting at 3:30). I''m pretty sure she was quite medicated (to the point of tripping over herself several times). I understand that she is going through some major grieving and all, but I''m not sure how I feel about her choices about dealing with the grief. Just the way she was made me feel a little uneasy.
My aunt made runners for the tables. I gave her a swatch of the BM dresses (it''s called kiwi). She made them hunter green. Ugh. Oh, well (I have a pic of that).
During the vows, the Rev. said "Lynn?", I replied "Yeah?" in my classic Philly accent, promptly followed by "um.... I mean, yes?". People got a good chuckle out of that.
Now for the GOOD stuff!!! Much more good than bad!!!
I had been SO worried about the weather cooperating for our outdoor ceremony. Turned out to be the best day of the year! Saturday was a beautiful 78 degree day, mostly sunny, with a few wispy clouds in the sky! I actually got a sunburn! I kept reminding DH to not squint for pictures, cause it makes him look mad.
I was surprised by how many people showed up for the ceremony. I had 115 booked for the reception, and the lady at Pennsbury Manor (ceremony cite) assured me that 80 chairs would be plenty (11 of us were standing the whole time - bridal party + photog and videographer). We still had about 10 people without chairs. So about 100 showed up for the ceremony, total.
The ceremony went off pretty much without a hitch. It was everything I imagined, and more!
My brother was awesome and sprung for a limo at the last minute. BM''s and I had spent the night at a hotel room the night before, and I had planned on borrowing said brother''s van to transport us girls to the ceremony. I hope he got a good deal (he said he did), cause the limo smelled kinda funky (can you say prom the night before?).
The reception was great, the food and the people there were amazing. I had 2 personal attendants for anything I needed, which was unexpected. I felt like a queen (I am so not used to be waited on hand & foot!).
The wedding party walked in to the theme from the A-Team. Totally hilarious. My younger brother actually did a dive/roll move on the dancefloor. Too funny.
Everyone raved about what a beautiful wedding it was, and a few even noticed the little details (favors matched the invites, bathroom baskets, etc).
I can''t wait to get the pro pics back. She showed me a few (the screen on her camera), and I''m sure they''ll be gorgeous.
A HUGE thank you to you PS''ers, for being so supportive and for answering my questions when I had them. You guys rock!!!!

I am still in shock that it''s all over. I am happily married!!!!!!!!
For those who are wondering, we''re putting off a honeymoon as DH is in school. My aunt has given us a time-share. We get to pick any resort from intervalworld.com, so if any of you have suggestions, I''m open! We''d probably go the last week of August or 1st week of September. We have to decide soon. I''d love to go to the carribbean, but that''s not the greatest time of the year for that.
I don''t have any pics of the ceremony. So far, only one of my friends has e-mailed me pictures. They aren''t the greatest, but hey, they''re PICTURES!
Thanks for letting me share my story!!!