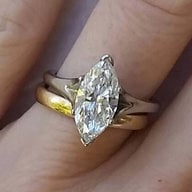 Joined

Nov 2, 2016
Messages

67
How would you recommend going about resetting an heirloom stone?
My new fiance proposed with his mom's marquise ring which we want to reset, and I've been researching the options: buy an empty setting online and take that and the current ring to a local jeweler, send the current ring away to somebody who makes a particular setting and have them set it, do a full custom process with a remote or local jeweler...?
I'd love to make this a bit foolproof, and modestly priced, so I was hoping I could find a premade setting I liked. The marquise shape seems to make that difficult though!
I'm looking for a simple solitaire setting composed of pointed arch shapes, just like the marquise shape itself. PS has already been really helpful in giving me some ideas. I think a Tiffany-esque setting like Vatche U-113 or CvB Jovyn would suit, but I haven't found anything like that for a marquise.
Given that I'm looking at 14k gold, I thought a budget up to 1K would give me plenty of room - but if the shape requires custom work, I fear the labor alone could eat that up. I do have some wilder ideas I could try out if I went the custom route (Mark Morrell's Torchiere could be one starting point, or
this crazy Belcher setting that I intended to look like an upside-down vaulted ceiling
...) but given the extra cost and risks of custom, I'm still hoping I can find something easier that I'd be happy with.
Any advice on buying and choosing settings, and finding the right jeweler to actually set it? Thank you!