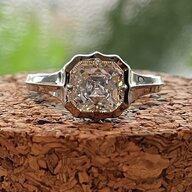 Joined

Mar 2, 2013
Messages

6,202
I want to pass along my sincerest appreciation to Team HPD - specifically Melissa (
@Winks_Elf
) and
@Wink
himself for their above & beyond, stellar customer service provided to me recently.
After having read so much extraordinary praise for CBI diamonds on Pricescope for quite some time now, I began entertaining the idea -
if
the right diamond came along -
possibly
upgrading my current Whiteflash Expert Selection diamond to a CBI. I knew - going in - it'd be a gamble considering the potential loss on my trade-in by
not
leveraging my current diamond's trade-up policy. But, in a random perusal of HPD's inventory a few weeks back, a potential candidate leaped out at me that looked like it was the identical yet slightly-bigger sister to my current diamond. Light performance images weren't yet available for it, so I reached out to HPD to inquire further about. But, as my luck would have it, the timing was such that CBI was closed during August, and a few HPD staff were on vacation. Nevertheless, Melissa placed the diamond on hold for me immediately and until we could get additional images, actual eyes on the diamond, some pictures by Jamie, etc. Melissa and I had a couple of extensive conversations about the diamond, CBIs in general, how wonderful hot dogs are for lunch when you're also running a conference call because no one can hear you take a bite (LOL), and she took my current diamond's information so Wink could get the process started for obtaining potential trade-in value via his network of buyers as soon as he returned. I feel like Melissa and I spoke almost every other day for a week or so, and I cannot stress enough just how delightful, responsive & friendly a person she is right off the bat ... talking to her was like talking to your 'bestie' who also happens to be as big a diamond enthusiast as you - BONUS!
Once Wink returned, Melissa arranged for a conversation for us via conference call, where Wink shared his observations and answered my questions while he literally had his eyes on the diamond. And, bless his heart, he entertained ALL of my many, many questions (sometimes twice to make sure I was clear) around the diamond's clarity/eye-cleanliness, behavior, and performance with the patience of a saint, all while he was enduring a nasty cold bug. After that discussion, I made the decision to move forward with HPD's "see it to believe it" program and have the diamond sent to me to assess for myself, in my environment, with my own eyes. The diamond was in my hands in no time just prior to the start of the long weekend where I'd have ample time to observe the diamond in as many environments as I could think of as well as compare it to my current diamond, as my expectations were pretty high given how well my current diamond performs. I took the CBI into my home office (where I spend most of my work week), in the kitchen, outside in the sun and shade, to a dark room to see the brightness aspect as well as check fluorescence. It was a stunning sparkler that did not disappoint!
In the end, however, I made the decision to not move forward with the purchase/trade-in, and returned the CBI to HPD. To my eyes - and this should NOT be inferred as a negative; rather, a positive to the high standards both CBI & WF have for their diamonds' performance. The CBI and my current diamond largely performed almost identically in every environment I viewed them in with only
slight
'personality' differences. So, for me, it largely came down to
my
'mind-clean' factor: cost ... the loss I'd take on my trade-in and the remaining out-of-pocket cost to upgrade was weighed against what I would 'gain' overall. I can't say for sure that - if I'd already had a CBI and was leveraging HPD's generous trade-up policy, or didn't already have an outstanding-performing diamond (also with a generous trade-up policy) that I was using for trade-in on the purchase, that that diamond wouldn't be on it's way into a new setting for me right now. But I can say -
positively
- that I'd never hesitate to buy a CBI diamond from HPD if what I wanted was available in my budget.
I count myself blessed to have been in this 'predicament', and doubly blessed to have had such a wonderful experience working with Melissa & Wink, and appreciate them both for their professionalism, friendship, and the opportunity to see a CBI for myself, in my environment, via the SITBI program HPD offers customers. It really was easy for me, as HPD did all of the work, really. And there's no better place to really view a diamond and KNOW you will love what you're buying than to do so from/in the comfort of home, in the light settings you are in most of the time, etc.
Thank you, again,
@Winks_Elf
&
@Wink
for being so wonderful to work with!