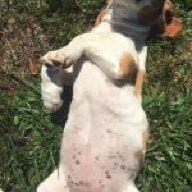 Joined

Dec 27, 2013
Messages

2,740
Are there any circumstances in which you would feel justified in keeping an engagement ring? Would you give it back?
Etiquette from The New Rules of Engagement Ring Etiquette
If something sours and you decide to break off the engagement, you should at least offer to return the ring, particularly if it was gift. If you helped pick out the ring or even helped pay for it, ideally you'll return the ring and split the financial gains.
Man Sues Ex-Fiancée for $125,000 Ring
https://www.yahoo.com/style/man-sues-ex-fiancee-for-125000-ring-214353266.html
most accounts, Amy Bzura and Bradley Moss were looking forward to a happy marriage and long life together. The two were set to marry this past October with friends and family excited to attend the affair. But the two have ended up in a different type of legal arrangement, as Moss is suing Bzura for the return of the $125,000 engagement ring he gave her.
As reported in the New York Post, the New York City-based couple had been dating for more than three years when Moss proposed to Bzura on Nov. 7, 2015, according to court documents. That's when he gave her the square emerald-cut diamond engagement ring, apparently valued at $125,000. They were set to be married on October 29.
Court documents do not detail why the wedding was cancelled and the engagement was broken, but Moss demanded the return of the ring in early November. According to the Post, "the suit calls for the return of the ring, or its value in cash, with interest, along with punitive damages determined by the court."
FindLaw, an online legal resource, points out that relevant gift-giving laws are determined state by state, and most states have adopted a no-fault approach to determining if a betrothed must return an engagement ring. Which means the courts in these states don't like to get caught up in the whys and wherefores: "They view the relationship as private and therefore none of their business. If the engagement is broken, the giver gets the ring back, regardless of who or why." That could be bad news for Amy Bzura, as New York is one of these states.