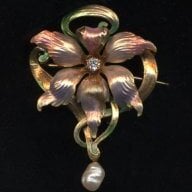 Joined

Dec 5, 2004
Messages

678
Some of you may recall that I have previously posted about my pinkish red 4.13 ct Mahenge spinel in the thread linked below:
https://www.pricescope.com/community/threads/pink-spinel-from-tanzania-how-should-i-set-it.98634/
I have admired all the beautiful Leon Mege rings posted on Pricescope and I have always wanted one. I sent my stone to Leon in early July, and I finally got it back yesterday. Since I was not in NY to meet him in person, I wanted to go with a safe design. I told him I want the ''Adriana halo'' like sapphire ring number r874, but with a split shank, and I want some custom design in the basket to make it more unique. He said he does not know what he can do until he sees how much room he has to work with. He agreed to send me sketches later. It was a bit scary to sign a contract without knowing what I am getting, and I wouldn''t have done it if he didn''t have such a good reputation here. Anyway, he did come up with an interesting design. The basket reminds me of a butterfly and it does make the ring more unique looking. The package came in a double Fedex box. The ring was in a plastic baggie inside a made in China red velvet box that looks like a little purse. At lease I got more than a baggie! I think the ring turned out quite well and I am happy with it. I will probably use Leon again for future projects. Here are some quick snap shots.