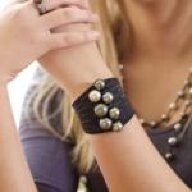 Joined

Aug 16, 2016
Messages

8
Ladies, am I going mad?
I've been laying some tahitian pearls into a line to set the order, and I can swear I can feel magnetic-kind-of-resitance between some of them. You know that when you try to put two magnets together the wrong side, and they resist to merge? This feeling. It's very light, barely existing, but I swear it's there. Mostly among biggest pearls (14, 15mm) and not from every side, but still.
These pearls are from reputable seller. So I've tried other strands (from other sellers) - and some pearls show same kind of feeling between each other. Is it the nacre doing it?

PLEASE tell me that someone else experienced this feeling and I'm not going mad?