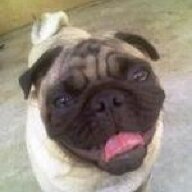 Joined

Jan 20, 2016
Messages

12
Hello!
I originally posted last month asking for advice on which
Whiteflash
ACA
to choose, and diamondseeker2006 directed me to the diamond that I ended up buying. So, a very big thank you to diamondseeker2006 as well as the rest of the pricescope community! Here is the link to my previous post,
[URL='https://www.pricescope.com/community/threads/advice-on-these-two-wf-diamonds.219055/']https://www.pricescope.com/community/threads/advice-on-these-two-wf-diamonds.219055/
[/URL]
My new diamond is an I VS2 1.345ct
Whiteflash
ACA
with the following specs:
Depth % 61.9
Table % 55.4
Crown Angle 34.7
Star 53.0
Pavilion Angle 40.8
Crown % 15.5
Lower Girdle % 76.0
Measurements 7.02x7.09x4.38
Since I spent my whole budget on the diamond, I had
Whiteflash
set it in a simple Stuller 4 prong setting for now. The Stuller setting is probably going to be long term temporary setting until I can justify spending even more money on this
I don't love the prongs, but I was very pleasantly surprised by how low the diamond was set and by how thin the band was. The band is thinner than my 2mm wedding band, so it must be 1.5mm wide. I'm loving how thin it is because I have short and stubby fingers, and I think that the thinner band is more flattering for my short fingers. Oh how I envy all of you who have long slender fingers!!!
Anyway, here are some pictures of my new baby! I really do love it, and it looks incredible in all lighting. I also just purchased a rose gold twist band on Etsy to go with my diamond ring after seeing so many lovely twist bands here in pricescope. Both rings are size 5.5.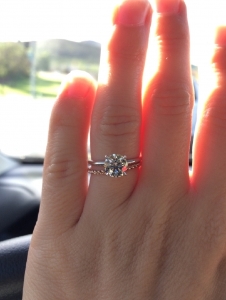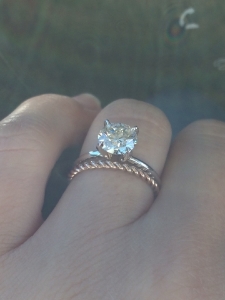 Last thing that I want to say is that
Whiteflash
was a pleasure to work with. I dealt with both Becca and Vera, and they were both wonderful.
I hope to be back someday with better pictures taken with my good camera, but for now these will do. Thanks again!