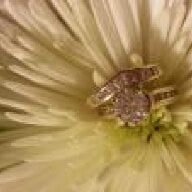 Joined

Mar 8, 2010
Messages

1,539
So, I may or may not have jumped the gun and gotten myself an early graduation present of 1.3 ctw bezel set diamond studs


I managed to find EXACTLY what I was looking for, so I bought them even though I wasn't quite ready. I'm selling some of my rarely (or, never) worn pieces to help recoup costs. I couldn't upload pics to the bistro (or here, for that matter) so my items will be on eBay. Here's the first one:
From the auction:
Thanks for looking!! This is a 17 inch long necklace, made of adorable high-polish circles interlocked with oval rings, all in 14 karat yellow gold with a very sturdy lobster-style clasp. It's a very heavy, solid necklace that weighs in at 9.78 grams, so this auction will start off at just under current melt prices.
I'm selling this necklace to fund another purchase, as it's something I just don't find myself wearing. I really love the look of this necklace, but sadly, it just sits in my jewelry box, and I haven't worn it once. I would love to see it go to someone who will show it more attention than I have.
Shipping will include insurance for the full purchase price. I will accept returns within 3 days if the item is significantly not as described, though I think you will be very happy with this gorgeous necklace.
Thank you so much for looking!
ETA: Linky. I'm an airhead this week, it's been a crazy one!
http://www.ebay.com/itm/220870138434?ssPageName=STRK:MESELX:IT&_trksid=p3984.m1555.l2649