Joined

Aug 13, 2016
Messages

44
the helpful folks over in the hangout forum have helped me narrow down a birthday gift/push present to getting a spacer. i figured it might make sense to prod the forum as well for advice (i hope that's OK).
to start, a photo of her set: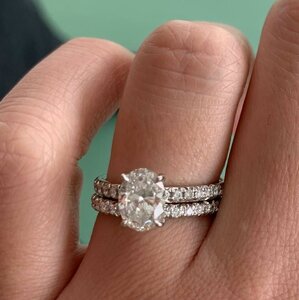 my budget is ~$500 for a platinum band. thinking 1.5-2mm (wide enough for a potential engraving).
i've spoken to a few vendors; David Klass, Raven's Refuge and Deb Blazer as well as finding a few on e-weddingbands.
Klass quoted me $450 for a plain 2mm band. i can get the "same" band via EWB for half that price so unsure why i'd go with Klass for something so basic - you guys might be able to school me on that.
i also think a very delicate design might be nice but i worry about making the finger look too busy.
thanks in advance!!