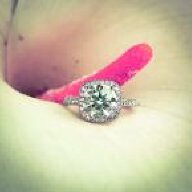 Joined

Jul 23, 2016
Messages

20
Hello Pricescopers!
I want to first take a moment to thank all for the informative posts that I have read over the years. I finally joined after lurking through pages, being introduced to Jack Kelege, Leon Mege,
Victor Canera
,
Whiteflash
, and all their beauties.
After 4 years of searching, I
thought
I had finally narrowed down finding that perfect setting for my 2.0 RB H color, VS2 (<2.0 on HCA, TIC) in a Vatche Serenity with prongs like those found in the Royal Crown, much like seen here:
https://www.pricescope.com/communit...fted-by-infinity-in-a-vatche-serenity.208630/
,
or the
Victor Canera
scalloped solitaire with pave shank. Mind you, this was after 3+ years of drooling over the Tacory RoyalT 2607, because the $18K Jack Kelege setting I tried on, that started this long
it-has-to-be-perfect
journey, is beyond my budget. This was also 3+ years of trying to get my fiancee to be comfortable with the $11K price tag on the Tacori.
So of course, thinking I finally had it narrowed down to two simple, timeless pieces chosen, I show my fiancee the Vatche and what does he say? "Why so plain? In my opinion, it should be gaudy. I know what I paid for it (the diamond). It would be like driving a 1970 Plymouth Roadrunner convertible to a car show, or a 1957 Bel Air convertible. Everyone will "ooo" and "ah" over the Bel Air.

I guess all those nights showing him the Tacori 2607 did something. Did I mention he is a car guy? (The Bel Air has a lot more stainless steel and chrome to "look" at.) He did like the "web" on the scalloped
Canera
; this was also the selling point for me: it's classic 6-prong but has personality and beautiful craftsmanship.
While decisive about everything else in my life, for some reason, my preferences in the last 4 years for settings have oscillated from ornate miligrain, almost Edwardian/Art Deco to classic (Saturn Jewels, Fay Cullen), halo settings (Tacori), to settings with trapezoid side stones (JK), to 6 (or
claw prong solitaires (Vatche,
Canera
, though I know this is like comparing apples to oranges: CAD/cast vs. bespoke). The three things that have remained constant are: a beautiful gallery, with very little metal and more pave, bright cut pave with miligrain (absolutely no French cut, fishtail, v- or u-set pave...I know, I know...), and if it has a halo, a cushion halo with no "flying saucer look" (. No matter what, very little smooth metal anywhere.
I beginning to think I am looking for a unicorn. I am even open now to how the pave is set, and just recently came across some Harry Winston inspired pieces by Brilliantly Engaged (custom request sent), to throw true halos back into the limelight, as seen here:
https://www.pricescope.com/community/threads/2-ct-harry-winston-inspired-round-cushion-halo.215089/
Here's the deal. My fiancee and I have been together on and off for 7 years. He proposed in 2012 when we were broken up. We have finally reached calm waters and I know whatever this stone is set in, will be its forever home. This will eventually be marriage #2 for me, marriage #1 for him. If I told you guys how it became loose in its temporary setting, you would be in shock!

Needless to say, it is loose now and the time to make a decision has come.
My budget is around $4K, give or take, for a platinum setting. though I wear a size 6.5, they are big fingers, would like to get rid of some real estate

. Should I go with
Canera
? Still waiting on a response back from Brilliantly Engaged. Tacori I am now steering away from due to all the issues I have read about here on PS. I would also like to keep the pavilion area more accessible for cleaning and more light.
Can anyone give some insight with their experiences with either
Victor Canera
or Brilliantly Engaged (pics please!)? Or is there a designer somewhere that I missed? What is the range for a Leon Mege or Steven Kirsch pave shank? I am happy to know that the VC will come within range...I haven't decided if I would want staggered pave in 3 rows along the shank, or just a single row of bright-cut pave with miligrain edges. I am very active with my hands; I know pave is a risk, particularly for someone like me, but I also know losing a melee here or there is inherent. I am also having a hard time even thinking about sending out my stone. The hack job in how it was set to begin with, where my fiancee bought the center stone, really makes me think twice about any of the "smaller" jewelers here in the San Francisco Bay Area. That being said, it is a rock and a hard place for me, deciding on sending it out to be set with a bespoke designer who does beautiful work, or having it set locally and not turning out well. I guess I'm just that Nervous Nelly that needs reassuring at this point! (what is wrong with me?!)
Any leads and insight would be very appreciated! I've attached pictures of the rings I have loved....