hey
I'm looking for an engagement ring to propose to my girlfriend next year.
She has ring size 4.5 and does not want a diamond that is much bigger than 0.5-0.6 carat.
First, she was really into pricess cut diamonds. However, we recently saw rings with cushion cut diamonds and she absolutely fell in love.
I figured that the H&A diamonds from BGD would be an ideal place to start.
Because the ring will be in platinum, the color of the diamond should be at least G.
This stone looks about right:
https://www.briangavindiamonds.com/diamonds/diamond-details/0.540-e-si1-cushion-diamond-ags-104065050008
However, I also wouldn't mind to buy a stone with about 0.6-0.7 ct.
Can you guys maybe help me with a proper setting for diamonds like this?
Maybe someone even finds a better stone for a stone budget of about 2000 USD.
The setting should be in platinum and as minimalistic and "flat" as possible, like the one I attached.
Thank you so much for your help, I'm looking forward to your ideas
Cheers,
Matze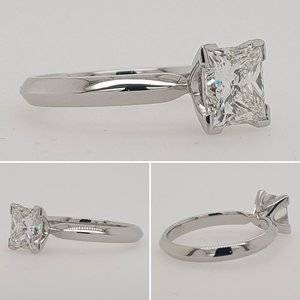 Last edited: