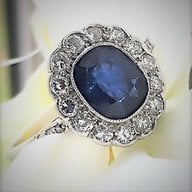 Joined

Apr 24, 2016
Messages

883
I'm looking for inspiration, ideas and recommendations for a wedding band to go with my antique flower cluster/halo ring (pictured). I'd like a flush fitting band, with no gaps. Not yet decided whether to go for a plain band, diamond set or diamond & sapphire.
I don't know what the budget is yet.* We're waiting on an investment, which I think will also affect when we will be able to marry.
*I'm estimating between £500-1000, he will probably want to keep it down. My first wedding ring was cheap for platinum back in 2007.
This ring will also need to be platinum. I may be able to sell off my old rings to help with funds for the new ones. I got a price for them back in 2010 but I was only offered between £300-400 (can't remember exactly but it was less than half what was paid for both, they were originally approx £1150).
Engagement ring :
So far I've seen slot to fit bands (jackets) - where there appears to be 2 bands surrounding the engagement ring.
I've seen curved bands ,and bands with notches taken out of them so the engagement ring lies over the notch.
Out of these, the notch one is my preference. I've searched on here and seen this thread by Lizzie C (2006)
[URL='https://www.pricescope.com/community/threads/my-wf-wedding-band-is-finished-pics-inside.41901/']https://www.pricescope.com/community/threads/my-wf-wedding-band-is-finished-pics-inside.41901/
[/URL]
My engagement ring is quite flat against my finger but I think there may be room underneath.
Otherwise if I was going to go with a curved band, the curve from the bottom of the band to the bottom of the basket is about 5mm.
Here's one I've seen that's a similar style (curved band) :
http://www.ringjewellery.co.uk/jewellery/fitted-wedding-rings?p=4&per=10
(last one on page 5- the individiual photo won't link) The company are a long way away from where we are.
Are there any other options I may not have seen? I do want to continue wearing my engagement ring, I know that some ladies stop wearing theirs. It seems a shame to stop wearing it.