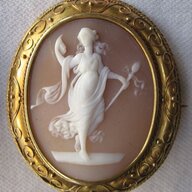 Joined

Apr 17, 2002
Messages

3,682
I have a lovely art deco platinum ring currently set with a dreadful little diamond, an OEC that's at least I2. (I don't actually mind inclusions in diamonds as long as they don't affect the sparkle--my sweet spot is a good I1--but this diamond has a huge feather with accompanying carbon smudges across one entire half and reflecting into the other half, which makes it smudgy-translucent rather than transparent.)
The dreadful diamond is 4.9 mm in diameter. I tried to live with it, but I really, really don't like it. I have plenty of diamond rings and don't need another, but I wanted to use a period-appropriate stone, so I decided to replace it with a blue sapphire. I bought one from Yvonne at Cecile Raley Designs. It was on sale and the price seemed reasonable. Here's her description: "This Ceylon sapphire is unheated and a lovely saturated royal blue color with tinges of purple, especially indoors. Extremely nice Portuguese cut, perfectly eye clean. Will fit into all of my rings and pendants that take a 5mm round center stone."
The specs:
Size: .42 ct
Measurements: 4.56 x 2.53mm
Shape: Round, Portuguese cut
Origin: Sri Lanka (Ceylon) - Mundun Kotuwa
Color: Deep Royal Blue
Treatment: None (unheated)
Her video:
Her video seems accurate to me. That's how it looks in bright, indirect light like shaded sun or a cloudy day outdoors. In direct sunlight it lights up bright blue. But in most indoor light it looks very dark, so deep navy it's hard for me to tell it's blue. I think part of the issue may be that it's so small--do little dots of very deep color just read as black?
I love the color in bright light and especially in direct sun. But indoors or in the evening/artificial light it's just so dark. Should I return this sapphire and look for a lighter one? Or is this what blue sapphires are supposed to be like? What would you do?
Thanks in advance for your help!
Here are various photos of the sapphire and the setting, along with some photos of another ring of mine from the same period, a platinum ring set with little diamond melee and three tiny sapphires (smaller than the one from Yvonne), that behave in pretty much the same way. I can only really tell they're blue outdoors in the sun.
Slightly overcast afternoon: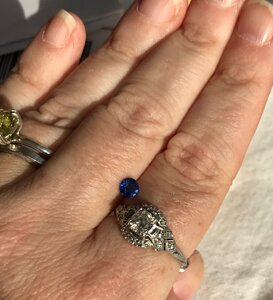 Bright daylight indoors: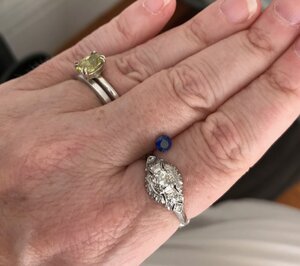 Daytime indoors, not near the window: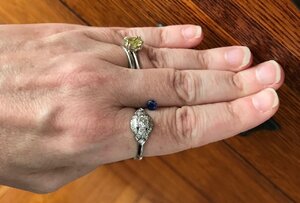 How it looks most of the time indoors: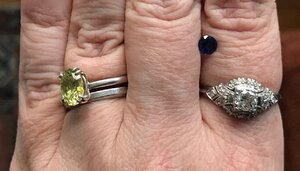 Another typical look: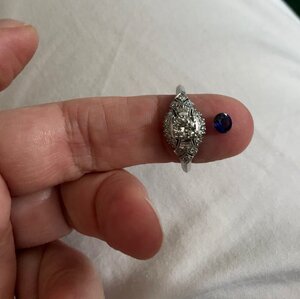 Full sun: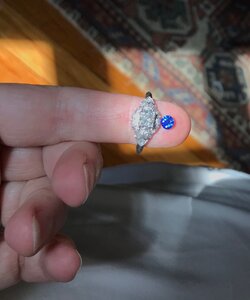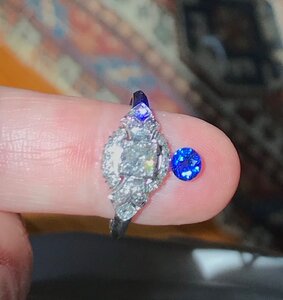 My other 1920s deco sapphire ring, with the ring I want to put the sapphire in, first in shaded sunlight with the sapphires looking bright blue, then two shots in a darker part of the room, with the sapphires looking almost black. In the first of the dark shots you can see the new sapphire in its gem box peeping out between my fingers. In the last shot I'm holding the new sapphire in its box--it's out of focus, but you can get an idea of the color.