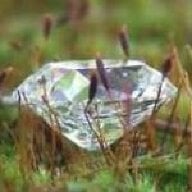 Joined

Jun 29, 2006
Messages

11,071
DG in Blue, CB in Red:


There are so many variations of Cushion patterns that the GIA ''claim'' they can''t copy the faceting plot for every odd faceting arrangement out there....
Pity, they sure know how to charge for grading $$$$$$$$$$$!
I say a big old PSHAW! They have to run a sarin to get the angle info they get in the first place - how freaking hard would it be to print up the 3D plot of the pavillion on their cert when they print up all of the *other* info on it.
Okay it took me all of like 2 minutes to make this up using my sarin, if they had the program already set up it could insert and print the plot of the actual stone right onto their grading certificate. And they could do it for the side as well... and I suppose you could argue that the sarin isn''t 100% accurate but they could throw in disclaimers, at least it would be *vastly* more accurate than the 100% NOT accurate generic plots they use!

I dont think Sarin can read and draw every type of "fancy shaped faceting arrangement out there if it is not somehow in their memory!!
But i may be wrong...


So I ask all of those in the know, does GIA use sarin to acquire the angles etc for the stones they grade or something else? And assuming they use sarin, is there a type of cut that cannot have a plot created?