Joined

Aug 23, 2014
Messages

54
So, as some of you know, I'm on the prowl for an oval, not-your-everyday-blue sapphire.
I was looking into this lovely purplish one. It's a blue/purple that shifts to violet/pink under incandescent light. Jeffrey was kind enough to send me a couple more images of the stone in regular office light. I was worried that it might be too dark, but it's not (then again, we're still looking at it in a brightly-lit room). Unfortunately, he was unable to catch it in incandescent light...I really want to see what this color shift looks like because it sounds exciting.
I have a couple concerns, but I would truly appreciate your thoughts on this stone as well...
-First of all, there appears to be a little bow tie. I notice it more in the pictures on the site than the ones he personally took for me. I don't know if this is a major issue for us. Maybe it's a case of beauty being in the eye of the beholder. But cut's pretty important.
-Secondly, I'm not sure if the stone is big enough. That sounds very superficial...but I entered the measurements into diamb, traced the outline of the supposed actual size, and tried it on my finger and it just seemed small, like maybe 1 carat. Of course, this could be because I was using a flat piece of paper. What I may do is go to a jewelers and try on something in a similar size. The stone is 3.52 carats and measures 9.59 x 7.40 x 5.70 mm. My ring size is 5.5. Perhaps I'm just being silly?
Without further ado, this is the sapphire listing:
http://jefferydavies.com/inventory/product/312-1604-sapphire-3-52ct
[listed price is $3,525]
And here are the pictures he sent me: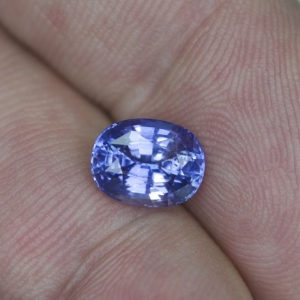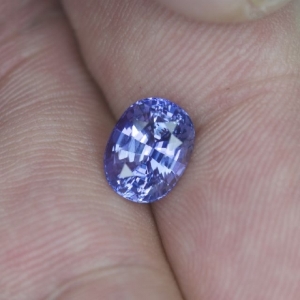 What do you think?