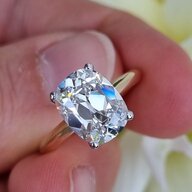 Joined

Jun 30, 2015
Messages

829
Hi all wonderful and knowledgeable people of colored stones land
I have been contemplating getting a star sapphire to set in a diamond halo pendant. I own a tiny (probably synthetic?) star ruby, but prefer blue (and not synthetic).
I know that the star is not visible all the time and am instead focusing on getting a lovely colored sapphire cabochon. I dont really need a perfect star and would in fact prefer a less perfect star beacause a perfect star would remind me of my "fake" star ruby. I prefer light blue, maybe slightly white/grayish and possibly a slight lavender tint as long as the main color is blue.
Are there any recommended vendor here who sell blue star sapphires? My budget is approx 1000 usd for the stone, but I am still trying to learn if that is a realistic budget or if I need to save up some more to get something nice.
I found this vendor, are they reputable?
http://www.thenaturalsapphirecompany.com
What would you say about this stone? I am not looking to buy right now, I am simply trying to learn what to look for.
http://www.thenaturalsapphirecompany.com/p-36606-oval-star-sapphire-s523/
Thank you for any thought or recommendation on this!