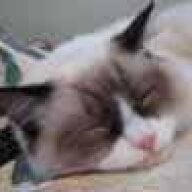 Joined

May 9, 2004
Messages

5,609
I was in a (upscale) mall jewelry store and out of curiosity, looked at their diamonds, especially their loose stones. *Oh my!*

Most of the "SI1" stones had large black inclusions that were quite visible even to the naked eye. The salesclerk went crazy over my diamond and actually said, "OMG! Is it FLAWLESS?!" When I told her it was an SI2 she was incredulous. "WOW... it sure doesn''t look like our SI2s..." she said.
This, along with several PMs from (nervous) newbies, got me thinking that we need a thread to show off our gorgeous SI stones. New diamond buyers, whose only experience with SI stones is the mall, are of course nervous (and skeptical) about SI clarity. What better way to educate them on the beauty and value of our (carefully selected) SI diamonds than a thread devoted solely to these?
So, come on - let''s show off our SI beauties.

Photos and specs, please!
Lynn
This is the magnified face shot of my diamond. It is totally, 100% eyeclean - even under close scrutiny. Under a loupe there are a few soft, small whitish wisps.
AGS-0, 2.36 J/SI2
55% table, 60.5% total depth, 34.4% crown, 40.8% pav.