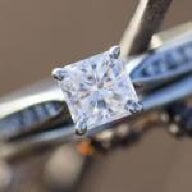 Joined

Jan 18, 2011
Messages

499
I've only posted on here a few times, I normally stick to lurking and when I do post it's on the Hangout or SMTB boards. BUT I figured I would still share my excitement. Tomorrow morning at 8 AM we're leaving for our Destination Wedding in Maui! It's very small and intimate, just us, our parents, and our photographers. We're getting married on a public beach, but in a very secluded area. It's hard to get to and is known as a "secret" beach. I'm so excited!!
I had a severe (2nd degree) burn to 1/2 of my right thigh almost 2 weeks ago but it's a lot better. It's still far from perfect and I may need to keep it wrapped up under my dress on the big day, but I am pretty confident that I'll be able to get some swim-time in Hawaii
Thanks for sharing in my excitement! And now I'll leave you all with a few pictures from my final fitting which was September 25th-- the day of my burn (only an hour and a half after it happened!!) and of our housewarming party.