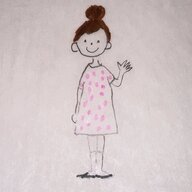 Joined

Feb 2, 2016
Messages

5,331
Look what arrived today after being delayed, gotta love USPS!
Originally I referred to this as a Sputnik ring but I'm going to call it a flower because in person it looks more like a flower. Anyway you slice it the center sapphire is 7mm and surrounded by single cuts in white gold. There appears to be remnants of a maker's stamp on the inside. I've looked through a loupe for inclusions and it's pretty clean but I think there is a feather in there so that gives me some hope it might be natural, since you never really know without testing.
It is currently too small but I'm not going to resize it, nope if I want to wear it then the deal I've made with myself is I have to lose weight.
In the sun it is a blue purple and indoors it calms down to a more lavender shade, it's pretty cool, the setting is really well made and it has a nice weight to it.