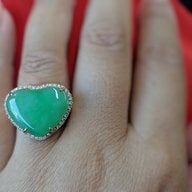 Joined

May 17, 2014
Messages

4,343
I've been a very very very naughty girl!!!
All you Jade lovers are probably familiar with my green Jade bangle by now so I'm here to report that I've added another bangle to my jade family!
As another wise PSer mentioned in my other thread "Your Jade finds you" and this one obviously found me.
There were a few considerations for me when getting a lavender.
1. Obviously budget was a huge issue. There are many many many beautiful lavenders out there but they are also completely not in my budget.
2. Lavender. It has to be lavender. Not
"squint and imagine the nasty grey tone is lavender."
3. Dealing with vendor shenanigans in terms of color. The videos from the vendors are either usually heavily edited or taken from cameras that really amplify the colors. Again I really did not want grey and had to emphasize time after time that it had better not be grey!!! They assured me repeatedly that it was not grey.
So after that long winded rant, here it is!!! It has a few stone lines that can't be felt at all but that was my trade off for color. It is lavender in ALL lights!!! ALL LIGHTS!!!! It's actually a lot more lavender than my photos! It was incredibly affordable given the color and I ordered a report from the Hong Kong Lab for it as well.