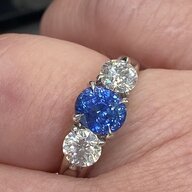 Joined

Feb 29, 2012
Messages

10,037
So I might dip a toe in lab grown with setting my round sapphire. I am curious if anyone has done lab grown melee for a halo? I'm getting to the point where I want to set my stones, but not all of them have to be made into a glam expensive ring. I always wanted this yellow sapphire to be a fun daisy ring.

I did send a query to DK so I will let you know if I get a reply (lol). I have read in the archives that Stiller has lab melee.

I found a guy in India on Etsy who sells lab grown melee but I'm not sure it's worth a $140 gamble on the cut grade. (12 of them in a parcel)

Of course, using high end earth melee would be FAB because I have it on my aqua and that really did step it up a lot, but I'm really not sure I want to do that with the daisy ring.

What's the scoop out there on lab grown melee for halos? Thanks.