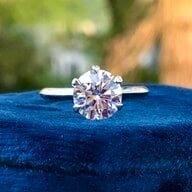 Joined

Jun 16, 2017
Messages

424
If you've ever ventured over to Fabulous Fashion Jewelry then you may have seen my thread over there -
Buying Moissanite from Tianyu Gems
. I had (well, technically still
have
) a really beautifully cut 7.5mm OEC moissanite from them, but I kept feeling the absolute itch for a 2ct stone. Problem is, I do not particularly care for the optics of moissanite in the 2ct range. I can really see the double refraction and it bothers my eye. In other words, it would never be a mind clean stone for me.
A little over a year ago my long-time rep at Tianyu Gems named Emily let me know they would soon be cutting lab diamond. I desperately wanted a 2ct OEC, but for logistical reasons they wouldn't cut it. They had made several attempts that did not go well and nixed it. So I watched over the months as they got better at cutting H&A and about a month ago put in an order for a lab diamond in the G/H, VS1/2, 2 carat range. I ended up with a lovely 2.19ct H, VS2 that I am absolutely in love with. I had a platinum Tiffany-style setting that I sent off to DK along with the diamond to be set, and it arrived back home to me yesterday.
And so, meet Astrid!