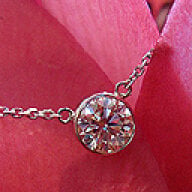 Joined

Oct 30, 2002
Messages

31,003
Many of you have read the story about Greg's Wedding Ring in the Show Me the Ring forum..if not, here is the thread to catch up.
https://www.pricescope.com/community/threads/gregs-finished-wedding-ring.14700/
Bottom line is that we had his wedding ring commissioned by Absolute Titanium and it turned out beautifully. However, as we found when it arrived, it was definitely too big. At the time, we thought it had been erroneously made too big, and asked Absolute titanium what our recourse was. We had a very short timeline, we leave for our wedding in 2 weeks and was afraid that making a new ring was out of the question given the 4-5 week timeline of the original piece.
Bruce of Boone Rings had offered to try to resize the ring for us when i posted about our dilemma, but we were unsure if the max resize option of 1/4 would even be enough since this ring seemed amazingly loose. In the meantime, Absolute titanium got back to me with news that they could also try to resize 1/8-1/4 for $75 and it would take a few days. Or they could remake the ring but after the wedding and it would take 4 weeks and cost us about $300.
While considering the options and not loving any of them since we really wanted a ring that actually fit...Bruce from Boone emailed me and offered to make us an entirely new ring for a very low cost. He noted that AT's site was slick with amazing pictures, but the reality was that it did not take 4 weeks to make a ring. He wanted the opportunity to replicate our original ring in a few days! He would charge us a minimal amount and all shipping costs!

Obviously this was very intriguing! We were interested obviously, and after doing a bit of research on Bruce and his company...and reading some accolades from happy clients, we decided to take the plunge.
I sent the original ring via FedEx yesterday morning, it arrived to Bruce this morning. He spoke with me this morning and we went over some details, rounding the at ring corners slightly, he wanted to set the stone higher than it was set in the AT design etc. He also told me that he thought he could have the ring done by tomorrow, Friday. Wow, a 2 day turnaround? Amazing!
This afternoon I got an email from Bruce with a picture of...you guessed, it the finished ring! WHAT?! But that's less than a day! Pretty sweet eh? So he shipped it off to me today and I should have it at our doorstep tomorrow by 10:30am. I am so excited, the picture he sent is beautiful and Greg loves the slight modifications that were made to the original AT design.
The bonus fun part is that Bruce set a CZ into the AT designed ring for us, so now we will have two rings! So in case Greg bloats out after the marriage and gains 50 lbs, we'll have a ring that fits.

Here is the picture that Bruce sent us and the comparison of the AT ring, slight differences but I think Bruce's ring looks amazing. We can't wait to see it in person tomorrow AM. He made the ring size 10.3 and noted that the AT ring IS a size 10.75, so either Greg lost 50 lbs in 4 weeks (not), or the sizing tools used at the stores we went to (on AT's request) were entirely off! Or something. Anyhow, hopefully the 10.3 will fit...it should considering that Greg tried a 10.5 this weekend, non comfort-fit, and thought it was perfect.
So for Bruce Boone, THANK YOU from the bottom of our heart for such an amazing, awesome save on our wedding ring. Bruce showed us that you don't need 4 weeks or 2 months to make a ring, it can be done in a day or two if the creator is dedicated. Bruce really sounds like he loves his work, which makes everything so much more quality when it comes from one who loves what they do.
I will definitely post more pictures and my thoughts on the new ring tomorrow, I hope it will be everything it looks in the picture and more! And it fits!

Thanks Bruce...and Pricescope because without Pscope we never would have been able to have this amazing save, and in time for our wedding WITH time to spare!!
(btw...both the AT ring and the Boone ring are satin finish while the original spectore is shiny...we liked the satin look better..)