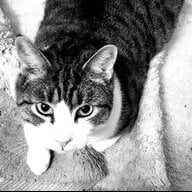 Joined

Nov 4, 2018
Messages

560
Friends, I'm coming to you for some sage advice. I recently bought this ring:
Problem is, I don't love the setting. One of the stones on the end is not set correctly (but not in an unsafe way, as far as I can tell), the height off my finger is taller than I like, and the stones are set very close together, so it doesn't offer me good coverage.
BUT, the stones are really lovely. Very white and very clean, with tons of character. TRR called them H-I SI1-2, whereas I would consider them closer to VS2-SI1.
I'm torn between returning it, and keeping it to repurpose the stones. I got it for 20% off, so after taxes & shipping it was right at $1,500. Are the stones worth that? Or would I be wasting my $$ to have to throw another $1K (or more) into a new setting? All opinions are welcome. (Sorry for the crap photos. It's late here & the lighting in our apartment is not diamond-friendly.)