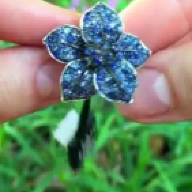 Joined

Nov 14, 2015
Messages

1,148
Hi so this is my diamond bracelet. The pears, are made up of a small (maybe 4mm I'll measure later) round diamond and a 2mm diamond.
I love this bracelet but..... I always wonder if I should put coloured stones in place of the 4mm diamonds? Like for eg gorgeous emeralds or hot pink spinels.... anything to give it a bit of oomph.
Or should I just leave it as it is because I have no idea how hard or easy it would be to change the stones and will I just mess up a perfectly good bracelet?
Thanks for any opinions!
P's if anyone has coloured stone or CS and diamond bracelets; please share pics ☺