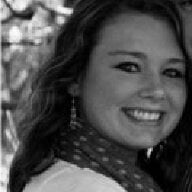 Joined

May 24, 2010
Messages

458
I originally started out in the Engagement forums, moved onto Bride World Wide, and now... TA-DA!! Im here
So I just wanted to share a few photos we got back from our photographer over the week. She has to send me the discs, but she does have them up on her flickr photostream. If you have the time and patience to look through all 800 or so of them, be my guest, I promise you will get a great laugh out of the majority of the photos. We were a fun group. Everyone had an awesome time!
flickr.com/photos/star8278 October 15th Wedding
ENJOY!
Husband and I both said it was the best day of our lives all around. I was so full of tears and happiness all day. Nothing in this world has EVER topped that feeling for me, EVER!
So the day began out quite early, 8am for hair and makeup appointments for the girls.. Everyone was so surprised on how calm I was. However, I admit I didn't eat for days because I was so nervous! After the salon, we got ready at my mothers house. She was so happy all day too, kept telling me how beautiful I was, however, in my opinion, my mother always looks like the prettier older sister.. (Everyone thinks shes my sister haha) The limo bus picked us up and dropped us off at the church. The ceremony was about 45 minutes and very heartfelt. I couldn't stop smiling, and we just kept holding hands pretty much the whole time. It was very sweet.
We then went to Penn State Lehman Campus and took some pictures by their stone wall and courtyard, and the spiral staircase... We then got back on the bus to go to the reception. I arrived at the reception and cried. Everything looked so beautiful
My husbands aunt made our cupcake tower that you see in the pictures, and she did an amazing job! Also at the reception we had a cookie buffet, and a 17 person photobooth. There was a vintage vibe throughout the evening, and it all stemmed from my dress. I will show you my invitations as well (not professional, something I wish I would have done
)
So sit back and enjoy the pictures!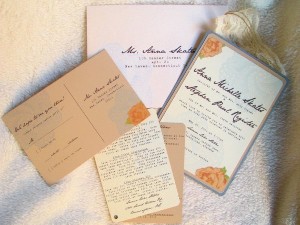 these were the invitations, however the flowers were a red color, and the back peice of paper was black. Wrapped in lace and twine.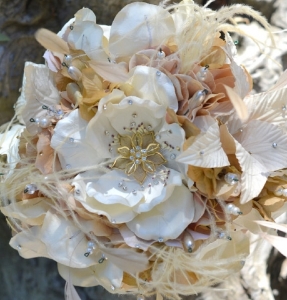 my bouquet, made out of ostrich feathers, gold brooches, and swarovski crystals