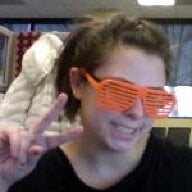 Joined

Jul 5, 2010
Messages

1,065
Honestly, no need to read this but I just need to get it out somewhere and out of my system.
I got notice on Friday that I'm getting laid off. I was given 6 weeks notice at the least. While we will be ok financially, this is a huge set back in our trying to conceive plans because all of the money we had saved will now be supplementing lost income.
In addition to all of this, I'm constantly worrying about my dad having a heart attack ever since we found out that he only has one working artery. He also is going to undergo chemo for cancer in his tongue next week. I worry about how stressful this will be on him.
C is starting kindergarten in 2 months and it just breaks my heart that this is likely the only time I'll have a little one for the rest of my life.
I'm in the middle of my grad school research class while dealing with all of this which is extremely demanding.
The 1 year anniversary of my mom's death is coming up in 2 months as well
Sigh. I really just want to punch something...or someone ....maybe my boss's face...

It'll be ok in the end, it always is. But, man, things just REALLY suck right now.