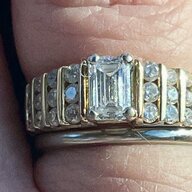 Joined

Feb 23, 2019
Messages

132
So we're about to make a purchase of a stone I think will be fabulous but understated. A 2 carat excellent cut by AGL standards. Not that big by PS bling standards but big relative to many here. BF is worried people will ask what it cost and that it will be awkward. I've had a 1.5 carat center stone in a three stone that was pretty flashy for the past 15 years and nobody ever asked.

I suggested, "Just curious, why are you interested."

Do people ever ask you & how you handle it?

Do they ask if it's real? How do you handle that?