Joined

Jul 1, 2013
Messages

95
I wanted to share some pics from my trip to Joe Escobar yesterday. Gypsy was kind enough to meet me there and is one the sweetest loveliest people I have EVER met. She is just so great. My mom came with me too since she had the afternoon off and it was a really wonderful experience. I would highly recommend Joe Escobar to anyone in the bay area. They were not pushy at all and the variety of pieces was impressive.
I thought I could get away with not visiting a physical jewelry store and just do my shopping online, totally wrong. All of my preconceived notions on what I liked went straight out the window when I started trying on pieces. Three stones have been my favorite online for as long as I can remember (pears, half moons, hearts, i loved them all) and looked so different on my hand. In retrospect I should have taken photos, you'll just have to trust me that it was no good. I was lucky enough to see the exact design I originally wanted (oval with half moons) and it an instant "no" in real life, ovals did not look good on me at all (after 5 months of looking for one!) with or without the half moons. After trying on half the pieces in the store (Eric is so patient!) the clear winners were a split shank marquise and a graduated band with round stone (tbd between french cuts, rounds and trapezoids in the band):
Ring 1:
round looking cushion with round diamonds in the band and milgrain. I like the sparkliness of the band and the 6 prong setting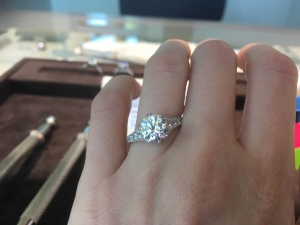 Ring 2:
round stone with trapezoid diamonds in the band. I like how the center stone stands out from the band. I really wish they had a french cut band to compare to. Also like the lack of milgrain on this band.
Both together: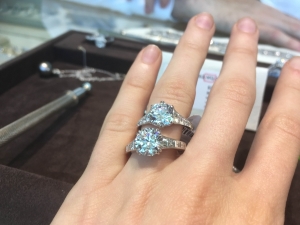 Ring 3:
Split shank marquise. Loved this ring which I would have never guessed from photos online. It's very unique and non traditional.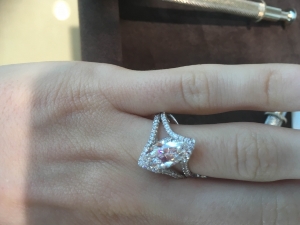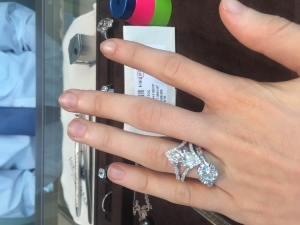 What do you guys think? Any favorites?