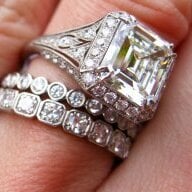 Joined

Jun 29, 2006
Messages

1,155
I thought you guys would enjoy some fun bling pics from the JE Holiday party
A few PS'ers met up for a fabulous night of bling, champagne and BIG DIAMONDS!
Hopefully a few of the other ladies will post their pics as well. JE also does a raffle each night (the party is on Thursday and Friday night) and they give away gift cards. Well about 30 minutes after I got home on Friday night I received a call from Eric telling me I won the grand prize GC!!!!


You'll see a photo below of 2 rich yellow gold necklaces, the leaf is mine which I just purchased at JE 2 months ago. The other one with the circular disk and offset little dangle diamonds is from the same designer and goes so well w/ my leaf. So.... I went back yesterday and picked it up, Merry Christmas to me! I still can't believe I won!!! I love JE!!!

Okay, enough talk, onto the pics!
My new necklaces first -