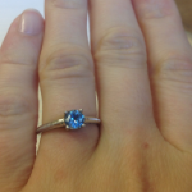 Joined

Dec 27, 2015
Messages

69
Hi all! This is probably not the best and most appropriate place to post this, but I really did not know which other forum to go to... So here is it!
I'm looking for a good jewelry box. It doesn't need to be anything fancy, but good quality and big enough. I'm looking to store different pairs of earrings and some rings in it, so I definitely need many compartments. I've looked a lot in Etsy, but I find most are either not fully appropriate or overpriced. Also, I cannot go for anything vintage since my fiancé has a strong policy against bringing into our place anything that has fabric or wood from an unknown previous owner...
Would anyone have any leads on where to look?