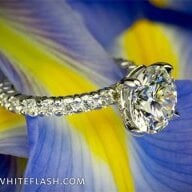 Joined

Jan 30, 2007
Messages

807
Hi jcrow,
I''m interested in getting a diamond bangle from
WF
and heard from some other PSers that you have one so I was wondering if you could please tell me how you like it.
Is it comfortable to wear?
Does it turn all the time and end up with the diamonds being on the bottom part of the wrist? I have very small wrists about 5" and my rep Katie said the bangle is 7" and weighted on the bottom so it should not turn even on a smaller wrist.
Is it pretty? and sparkly?
How often do you wear yours? Would you recommend it can be worn quite often? I would not be wearing it 24/7, not to work either but most other times I would like to wear it so would like your opinion.
Is it too much bling for everyday? I was thinking of getting the 1.50ct bangle with 24 stones I believe they are .06 and 2.5mm
Sorry for all the questions but I want to have some info before I go ahead and order this. FI has told me this is my b''day present from him!!
Thanks so much for your help