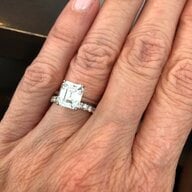 Joined

Feb 12, 2011
Messages

4,643
It's done and I have it back...
Thank you Chris, it is EXACTLY what I had hoped for.


This is hands down the hardest thing to do when you are truly not an expert. I have seen so many old diamonds on this website since my purchase and doubted my diamond choice so many times... there are so many to look at.. but now that it's set.. I do love it... The setting hands down is spectacular!!!
I tried to shoot some pictures in the shade where the warmth of the stone comes out and a few in the sun for the sparkle...
The diamond:
http://jewelsbyericagrace.smugmug.com/SOLD-ITEMS-1/181ct-Loose-Transitional-Cut/21737061_RmspDz#!i=1733026328&k=sHTgVdM
The setting journey:
[URL='https://www.pricescope.com/community/threads/chris-erd-is-setting-my-transitional.178155/']https://www.pricescope.com/community/threads/chris-erd-is-setting-my-transitional.178155/
[/URL]