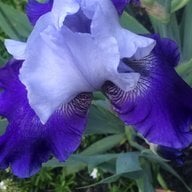 Joined

May 15, 2016
Messages

447
I have worn and loved my Art Deco eternity band for many (many) years. I recently realized that the band isn't round anymore - it has turned into a squished oval shape!
I thought it was time for a new eternity band.
I reached out to a vendor that I would like to own a piece of jewelry from - but I never received a response to my inquiries. I decided to move on from them and happened upon a preloved JB Star eternity. I had never heard of the company before- so I looked them up. They have very nice pieces on their website, so I decided to purchase the eternity band.
I received the ring yesterday, and I am very happy with it. It is a well made piece, with quality diamonds. (VS1 G 1ctw).
The style is different from the band I had worn, but change is good!
I wanted to let PS's know that JB Star is worth looking into if the opportunity presents itself.