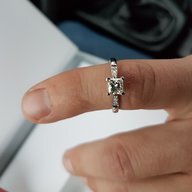 Joined

Jun 14, 2019
Messages

4
Hi Everyone,

New member here, i wasn't sure what else to do as i feel my fiance and i are stuck.

Ill fill you guys in with a bit of background, but I'm looking for advice on how to move forward.

I purchased a beautiful 14K diamond engagement ring from James Allen on 04/28/2017 with a True Hearts Diamond.(absolutely stunning, we have received soo many compliments on her diamond and ring)

Most recently with our Wedding date quickly approaching (07/14/2019) we decided to purchase both of our wedding bands. We did opt for the inscriptions on the bands as we had done so with her engagement ring. We received the rings, without the inscriptions and had called JA immediately and they told us this would be corrected promptly, which it was. We were emailed all the RMA/Customs papers next day which was great.

I had the means to upgrade her engagement ring to platinum to match her band and figured why not inquire about the upgrade for the setting. James Allen associates told me this was no issue at all and they would send me a quote upon receipt of the ring, they also assured me to leave the Diamond in as it would be in no better hands than the original manufacturer to place the diamond in the platinum setting, i agreed.

The ring was shipped back with the bands to be upgraded on 05/08/2019, the shipment was received at JA on 05/10/2019.

On 05/16/2019 i received the worse phone call we could have imagined and feared to be honest.They had chipped her True Hearts diamond. I was told by staff not to worry as they would correct this issue even if it meant taking a bit of a loss. I was happy to hear JA was already on the ball.

However, upon receipt of "Diamond" replacement options none were TRUE HEARTS DIAMONDS, i called the staff back and asked if the diamonds they would be sending me would only be AGS True hearts diamonds. Several members stated although not true "True heart" diamonds they would sparkle. This frustrated me immensely, i made a purchase for what the website states is less than 1% of diamonds in the world, how could they replace such a diamond with good, very good or anything less than their AGS platinum ideal (true hearts diamond). This also prompted me to make a phone call to AGS, which they also stated that i should not accept anything less than a "Platinum AGS" as well as it is their highest grading.

My most recent email had its first TRUE HEARTS diamond included as a possible option except its is SI1, i purchased a VS1 diamond so it was eye clean and I would never have to make this purchase again. I had than also been told at this time they would find the best price possible ??? originally JA said they would take the hit as they smelted my ring, re cut the diamond for sale and had made an insurance claim. I'm at a loss for words, i don't see any SOPS being followed, KPI's in terms of length of resolve. This cannot be best practice, I'm sure of it.

I tried to contact James Allen(the owner) today (06/14/2019) on LINKEDIN (even upgraded to platinum to message him) but had not realized the txt only allows so much script(new to using LINKEDIN). I feel ridiculous in having to go to such lengths. I love our ring(s) and the products we have received , i have referred and had other friends purchase from JA on my referral. However, i have not received the service most would expect from an error made by the manufacturer. I understand mistakes happen, we are all Human , however i do expect it to be resolved in a timely manner, this is not just a diamond, it may be so to the staff , however when you have come to love and cherish something that has been on ones hand for two years it defiantly comes with a heavy heart and sadness now to know she will never see that diamond again. They have no idea what my Fiance is going through.

We were told the diamonds are updated daily and have been looking everyday, we are loosing sleep over this matter, it is adding unneeded stress.

Any direction would be great, i apologize for the long drawn email. This hardly explains many more details that i have had to deal with as well. I'm not here to bash them by any means, i love there products and i think they do stand well above the other online sellers, however with a "Lifetime warranty" and a promise to your customer i feel this could and should have been handled a lot more professionally. Also possible center-lining would help eliminate the various responses from staff and keep consistency finding resolve.