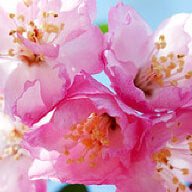 Joined

Nov 12, 2006
Messages

1,084
My search is over!!! Now I just need to re-create it!!! For as little as possible as course
. I''ll only need 6 and they''ll be surrounded by votives as in this pic. My other 10 tables will be 30" high and low cocktail tables and on those I''ll put something like a group of small bud vases each with a single bloom or something. No prob there.
To do these, I will need a square jar about 6-8 inches high or so, green leaves to wrap the inside of each jar, and looks like about 9-11 orchid blooms per centerpiece. My first search to buy these started at fiftyflowers and I would have at the least 300 blooms for $179! That certainly would be plenty! Now, wiring each of these would really take the fun outta.....well....outta anything really lol so I''m wondering how crazy I am right about now.
This brings me to my question. Can any of you think of another flower that has similarities in shape and comes in a mauve, purple, or even pink or rich green? And that wouldn''t require wired stems? Or, is it possible to avoid the wiring step altogether? Could I get away with keeping thier stems as long as humanly possible and filling the water up as high as it''ll go? Or, can''t a cut orchid live with no water for several hours? I read somewhere that they prefer to be too dry than to be too wet.
Thank you for any help