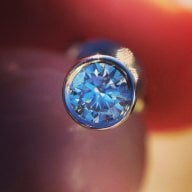 Joined

Jul 7, 2004
Messages

10,742
Yep, I've held onto that secret for a couple weeks now! I have a set stone again! And IT.IS.GLORIOUS.
As you might recall, an unfortunate side effect of my recent car accident was that my rings got damaged. My hands, thankfully, did not get injured, but my rings did. I sent my wedding band in to Tiffany, and they were able to repair it very well, and for a reasonable (actually, for a
ridiculously
reasonable) fee. I had it back in two weeks and it looked brand new!
My engagement ring setting was a different story. It was warped beyond repair, out of round, and flat on one side. Photos were not helpful in showing what that thing really looked like in person because you couldn't see the damage in a photo like you could in person. The damage was due to the combination of me squeezing my hands tightly around the wheel and the force of the impact. Because of the extent of the damage, I had to make a claim on my jewelry insurance on the setting portion. Chubb handled it perfectly, and I had the spectacular diamond vendor and jeweler Good Old Gold, where I've purchased this stone and other diamonds, inspect the stone to confirm it was, in fact, in perfect condition. Since the inscription was nowhere to be found, I had a major panic about that. My inspection at home indicated it was OK beyond that, but I wanted the pros to confirm it against the data they had on file. HUGE Thanks to Jon and Marie for helping me with that, and calming down the crazy.
Since I hadn't planned on a reset, and likewise I had not been looking for anything. I mean, I hardly wear my stuff, so why would I look for things?! I "needed a minute" to accept this, the totaled car, and was still walking funny... and wanted to focus on my stone being ok first and get my car handled. So post-inspection from Good Old Gold (their new website design is spectacular, BTW), I locked my stone up for a little while in the safe deposit box and set off looking for a replacement. As much as I love Good Old Gold, I didn't find anything I loved-loved there and wasn't interested in going custom, since I've just not had any good luck in that department in the past, with anyone. I didn't want that stress, even with a vendor I trusted implicitly. Mark Morrell was a top choice through them, however it would've been custom to make it how I wanted it, and to go custom with him would've well exceeded the price point I was comfortable with for a solitaire. Someday I will own a MWM...Some.Day.
All I really knew is that I wanted something simple and clean, and something that would work with any band, especially (preferably) my current ones. As I was making a list and hammering through it, I contacted several manufacturers and jewelers, local and afar, about various pieces to see if a band could be narrowed or a stone could be set higher than shown. Little tweaks, I thought. I usually met with a lot of resistance: "It is how it is." That Jaffe was among those "it is how it is" settings. The list I had made got shorter really quickly. I was getting mightily frustrated and at one point considered selling my stone and just not having an engagement ring at all. I mean, how often do I really wear these things? I know...blasphemous!
I worked with Brian Gavin Diamonds on my Bezel Set Studs (
seen here
) earlier in the year, and was ridiculously pleased with them, I've even worn them several times! That's a record! My brother and new sister-in-law actually went through BGD for her new wedding bands, also bezel set. I poked through their setting options a number of times, and kept going back to the
Tapered Tiffany Half-Round Setting
. I figured it might go pretty well with my Tiffany wedding band, so it made the top of my list. This style of setting is pretty common, in general and on the boards. There are some exquisite recreations, and some less-than-exquisite attempts. From the photos I'd seen online, Brian Gavin Diamonds has repeatedly crafted this setting, in several iterations, very well.
My stone had been loose in the safe for quite some time at that point, and I was dying to have a wearable ring again. I'd find myself going through the Forum Ering and Celebrity Ering folders over and over, and looking through bridal magazines for e-rings all the time, just to gawk. Like, with alarming frequency. I'd ask my brides about their rings, almost creepily. After a lot of hemming and hawwing and obsessing...a lot of debating, a lot of emails back and forth with Lesley, I finally made a decision and ordered the setting. Then in just over 2 weeks, I got word it was on its way back to me, and received the "glamour shots." It looked amazing, though set a little lower than I would have preferred. When I received it, the height was of concern, but it was otherwise pretty spectacular.
In communicating this with the folks at Brian Gavin Diamonds, we were able to get the ring back to them immediately and have it rectified to my satisfaction. Since we were dealing with a holiday, and the holiday proposal timelines, I felt kind of bad for having this happen, not just to appease my OCD, but because I did not want to mess up someone's proposal. But because they wanted 100 percent satisfaction and knew they were dealing with my picky perfectionism, they got it done quickly and wonderfully, and did not mess up anyone's timelines to do so. And it's just right. The height is absolutely bang on. Brian even took a great photo that probably required some gymnastics to get, just so he could show me where the culet "landed" in the setting, which is exactly where I wanted it based on our discussions of what is safely still high enough for my liking. This really is perfect height for this setting.
After all that--here's the first round of photos! Gird your loins!