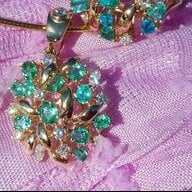 Joined

Jun 30, 2014
Messages

1,746
Hi All -
I mostly stay in the CS forum but my daughter's comment that this ring was "Bling Bling" told me to post this here.
My most recent project with Yvonne of Cecile Raly Designs has arrived and I am THRILLED.
I love kornerupines for their rarity and pleochroism - the appearance of different colors depending on the angle viewed. The design accentuates this property -- like a chameleon -- shifting colors in different lights and angles. Sometimes very saturated, sometimes lighter, varying degrees of green/blue/lavender and sometimes blending in with the diamond accents with all the sparkle. The whole thing sparkles like diamond cocktail ring. I had someone ask me if the kornerupines were blue diamonds

Yvonne and her talented CAD designer Brandy really knocked it out of the park this time. I hope you think so too.
(Also thanks to PSers for their input especially Sungura who helped supply the extra kornerupines needed to finish this design)
More background on the making of this ring can be found here:
[URL='https://www.pricescope.com/community/threads/my-latest-project-with-yvonne-with-questions.225872/']https://www.pricescope.com/community/threads/my-latest-project-with-yvonne-with-questions.225872/
[/URL]