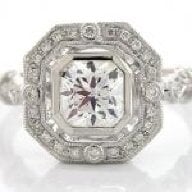 Joined

Feb 20, 2011
Messages

1,268
Tadaaaaa! My ring! I've been impatiently waiting while my ring was custom made by Beverley K and sent to GOG (standard 4 weeks - I couldn't WAIT to get it)!
I loved the style of ring I picked, and added my own little bits of flair - plus the diamond was very pretty when I saw it loose. However, I was NOT prepared for opening the box this morning outside Fedex and being BLOWN away!



I posted on here worried that the diamond didn't show much scintillation at first - a combo of bad office lighting and what I now think was the huge ring holder prongs on a smaller diamond hiding it's true beauty. This thing sparkles everywhere, I can't take my eyes off of it! It's stunning - I keep getting compliments and our head of HR is going to talk to me about a reset of her diamond! I don't think I'll get much work done the rest of the day while starting at it!
And it's HUGE - it's a .88 5.5 mm x 5.48 mm E I1 and it looks GINORMOUS! It's not just the halo, it's also the beautiful high polished bezel. Looking directly at the diamond, it just seems like it has a larger surface area than it did in the ring holder.
Thank you to Pricescope for all the education and helpful members - I've been researching for a while and appreciated all the information in threads. Especially the different options present to find a gorgeous ring on a budget. I hadn't heard of GOG or Beverley K prior to PS, and was able to achieve a ring that looks like a million bucks on a budget! For those researching options, the setting was $1590 ($1390 without modifications like I made) and the diamond was on sale (spring sale!) for $2670 with wire transfer.
Here is my thread outlining my research process and visits to multiple jewelers:
https://www.pricescope.com/community/threads/buying-a-ring-in-los-angeles-local-and-online-reviews.174086/
The picture do NOT do it justice, it is gorgeous. Beautiful quality! They really matched the proportions of the halo to the shape of the Princess of Hearts and the bezels I added enhance the halo very subtly.
GOG has been great - very accommodating and friendly. I'm so happy Marie could have Bev K make the changes, and make it so easy for me! I highly recommend them! I couldn't see me ordering a ring online, although I could see the benefits of ordering the diamond online - but after doing enough research and field trips and seeing Bev K quality in person I was confident that ordering from GOG was the right thing. After receiving the ring, I can confidently advise those researching their own rings to order a Bev K sight unseen (understanding that the scale of the ring is MUCH more delicate than in the chunky pictures! Even GOG's pics that I'm posting, while beautiful, don't do justice to this gorgeous ring!).
The ring is beautifully made, and is as delicate as the 1910 ring I tried on at Wanna Buy a Watch, and BETTER quality than some of the rings I saw at top LA jewelers. A similar ring locally would have easily cost $9000 and up, and would certainly have NOT had a diamond the quality of my Princess of Hearts. I can't even see my I1 inclusion now that it's set and the setting seems to enhance the performance of the diamond. Those ring holders really don't do diamonds under 1 carat justice!
And now for the pics!
The diamond
The setting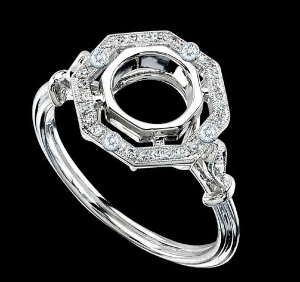 Together at last!